Model RS-700
A MAMMOGRAPHY TEACHING/TRAINING PHANTOM
Teaches positioning for craniocaudal and mediolateral oblique views

Teaches spot-compression procedures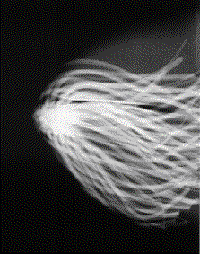 Phantom Mammogram
MAMMO is a patient substitute that allows instructors to teach mammography positioning.
MAMMO mammograms, taken within the range of standard technical factors, provide simple images with high contrast.
MAMMO both simplifies classroom procedures and allows students to take unlimited exposures by which their performance can be judged.
MAMMO's internal structure consists of flexible vinyl strands converging at, and bonded to, the inside of the nipple. One of the strands has an embedded calcification deposit that is used to teach spot-compression procedures.
MAMMO presents positioning cues similar to a real patient for craniocaudal and mediolateral oblique views.

Positioning for Craniocaudal View
MAMMO's breast can be pulled forward and compressed, then radiographed with standard techniques. Its rolling stand and mounting mechanism allow easy positioning at different heights and angles.
As MAMMO breast compression reaches a position within 5 mm of the correct compression limit, a red indicator lamp signals caution. This indicates that MAMMO is approaching the end of its range, requiring the student to take the same care for final compression with the MAMMO as would be required with a patient.
MAMMO'S anterior and posterior skins are bonded together to seal the interior space. This space is filled with a stable, fat-simulating liquid
MAMMO is supplied with a stand and a padded, lockable storage/carrying case.
<![if !vml]>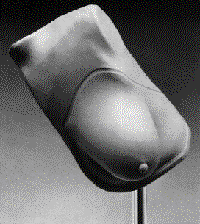 <![endif]>
ORDERING INFORMATION

MODEL

DESCRIPTION

RS-700

Mammo Phantom with Stand and Carrying Case
---
© Elimpex-Medizintechnik, Spechtgasse 32, A-2340 Moedling, Austria
phone +43-2236-410450
fax +43-2236-410459
---
<![if !supportEmptyParas]> <![endif]>