Homogenous dry water phantom with precise spherical shape - 16 cm diameter

Dose variation at center of sphere will relate to accuracy and stability of the treatment unit

Checks the dose-calculation algorithm based on a homogeneous sphere
DOSIMETRY IN THE SPHERICAL PHANTOM
When the center of the sphere is used as the target for testing the treatment unit, it must indicate the relationship between the point of maximum dose and the target. These should closely coincide for an accurate system.
A three-dimensional dosimetry unit was chosen for the center of the sphere to evaluate both the deviation of the maximum dose from the target and the gradient of the dose along the three orthogonal axes of the sphere.
The Dosimetric Cylinder
This dosimetry unit is a cylinder, built up of alternating disks of dry water (4.0 cm diameter, 2.74 mm thick) and radiochromic film (0.26 mm thick), with a dry-water disk terminating the cylinder at each end. All disks have two accurately positioned 3-mm diameter holes for orientation and assembly of all disks.
The stack of disks is assembled tightly into a cylinder by threaded nylon rods, passing through holes with blind cylindrical nuts at each end of each rod. The nuts mate with recesses in the sphere for precise and repeatable location.
There are 11 film disks and 12 dry water disks. Each film disk is marked with numerals from 1 to 11, with the numerals located superiorly and posteriorly on each disk.
5-mm diameter holes are drilled through the centers of two dry-water disks, immediately superior and inferior to the film disk at the central plane of the cylinder. These holes are filled with pins that are denser than dry water to present a target.
Because of the cost of radiochromic film, it will be desirable in many cases to use standard film disks at the non-central planes of the cylinder (when restricted data are adequate). In such cases the cylinder assembly can be completed with exposed standard film.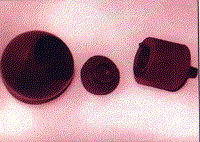 Spherical Phantom with Cone and Adapter for Insertion of Dosimetric Cylinder
STANDARD CONE
This is a cone mating precisely with a recess in the sphere. It houses the dosimetric cylinder. For TLD dosimetry, all film is removed from the cylinder, and an adaptor disk is placed at the center of the cylinder with the thickness needed to compensate for film removal. The disk has a recess to house 5 TLD chips, side by side, (3.17 x 3.17 x 0.89 mm thick) at the center of the sphere.

Adapter for TLD Chips
OPTIONAL CONE
This is molded to locate the measuring volume of an ion chamber at the center of the sphere. This cone is custom molded to suit the particular ion chamber specified by the customer.