Spot-Luminance-Meter LXcan
Quality Assurance at Image Display Devices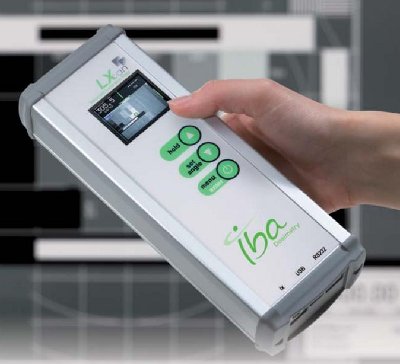 The new LXcan, the efficient successor of our well-known LXplus offers extensive improvements in handling and technical design including:
Large backlight display that shows readings and also supports alignment and adjustment of the measurement spot at the test monitor.
Targeting Device: an integrated camera which is generating an image of the target on the display of the LXcan: a visible circle symbolizing the measuring spot, has to point at the real measuring area on the IDD display.
Contactless distance sensor: The color of the circle signalizes via its color (green or red), if the measuring distance of 50 cm is obeyed.
Inclination sensor for precise user alignment of viewing angle.
New compact optic design and box housing integrades the LXplus stray light reducing front tube camera into the housing of the new LXcan. Test display generated at the front lens of luminance meters limits the luminance resolution to the level of stray light.
Newly designed compact focusing optic with 1.6 field of view offers a slightly increased signal to noise ratio at very low luminance levels.
RS 232 and USB interfaces enable remote control operation of the instrument as well as on-line operation with power supplied via the RS 232 or USB interfaces.
Rechargeable lithium battery supports the increased power need of the large size back lighted display and powerful microprocessor.
Recharge via USB interfaces is accomplished by connecting to a PC, laptop or optional power supply.
Overall
the new LXcan offers improved specifications and simpler handling in a new style housing.
Technical specifications
Luminance Meter; 0.05 to 10000 cd/m2 with F.O.V. ~ 1.6 °
Photometric V(8) Uncertainty ≤ 3 %
Extra Low Stray-Light Rejection for High Contrast Ratio
Distance and Imaging Sensor for Measurements at 50 cm
External Illuminance Detector; 0.1 to 10000 lx
RS 232 and USB Interfaces
Rechargeable Lithium Battery
| | |
| --- | --- |
| Luminance Measurement Range: | 0.05 to 10000 cd/m2 |
| Maximum Luminance Resolution: | 0.05 cd/m2 |
| f1`Uncertainty of V(8) Response: | ≤3% |
| General Uncertainty: | ≤ 10 % |
| F.O.V Lens: | ~ 1.6 ° |
| Influence of outfield luminance f2(U): | ≤ 0.6 % |
| Stray-Light-Baffle: | Integrated |
| Measurement Distance: | 50 cm |
| Measurement Spot: | 2 cm at 50 cm distance |
| Distance Sensor: | Ultrasonic |
| Illuminance Measurment Range: 1) | 0.1 to 10000 lx |
| Total Uncertainty: | ≤ 10 % |
| Display: | 1.2" TFT |
| Control Buttons: | Three |
| Interface: | USB, RS 232 |
| Battery rechargeable via USB: | Li-lon |
| Housing: | Al; Tripod Adapter |
| Dimensions: | 220 x 80 x 45 mm |
| Weight: | 500 g |
| Power consumption (use with USB): | approx. 450 mA |
| Expected operation time (battery use): | approx. 8 h |
| 1) with Optional Detector Head | |
© Elimpex-Medizintechnik, Spechtgasse 32, A-2340 Mödling, Austria
phone +43-2236-410450
fax +43-2236-860957