QC Kit IBAct Standard
Adult Head & Body / Pediatric Body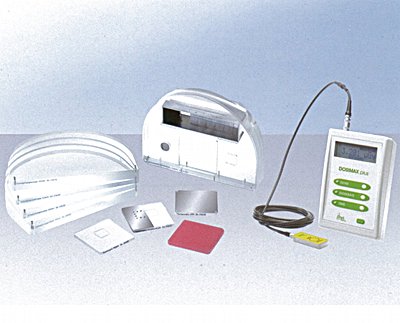 Complete measuring kit for dose measurements in computed tomography according to IEC 60601-2-44, IEC 61223-2-6, -3-5.
Consisting of:
2-parted Modular CT-Phantom for Dose Measurements VD1003110 Adult head & body / pediatric body
Dosimeter Dosimax plus A HV With internal high voltage supply for use with ionization chamber DCT10-RS.
Ionisation Chamber DCT10-RS / Lemo
Extension Cable, 8 m
Specialist Booklet "Radiation Exposure in Computed Tomography"
Carrying Case With removable trolley
Optional:
Official Verification of dosimeter DOSIMAX plus A hV by a German office of legal metrology.
© Elimpex-Medizintechnik, Spechtgasse 32, A-2340 Mödling, Austria
phone +43-2236-410450
fax +43-2236-860957

Spechtgasse 32, A-2340 Moedling, Austria
Tel: +432236 41045-0
Fax: +432236 860957
www.elimpex.com