Radiation risk minimization
Today, diagnostic radiology is a main factor of the population's exposure to radiation. Therefore, it is required by the European Guideline 97 / 43 / EUR- ATOM to determine the patient dose in X-ray applications especially with children and when using higher doses. The VacuDAP system for measuring the dose area product (DAP) complies fully with this requirement.
The Measuring System
The modular VacuDAP dose area product measuring system offers various ionization chambers and configurations for a wide range of X-ray equipment. All complete systems have a serial interface for connecting a printer or transmitting data to a data acquisition system.
VacuDAP compact /compact S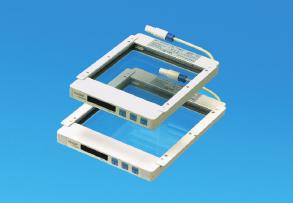 This is a compact unit designed for uncomplicated retrofitting and is equipped with an integrated display and control keys directly attached to the measuring chamber. A model with reduced dimensions is available as a special type for mobile X-ray units having smaller collimators.
VacuDAP-C

This configuration with circular ionization chambers was developed for the full integration into C-arm X-ray equipment. The chambers have been designed to meet the specifications of the equipment. The electronic measuring system supplies the measuring results as ASCII protocol via a serial interface to a host computer. The system is operated and the measuring results are displayed by the control console of the X-ray apparatus or by a separate display unit.
VacuDAP-C duo

The special measuring chamber and its related two-channel electronic system make it possible to determine air kerma, air kerma rate and DAP, DAP rate and radiographing time at the same time. The measuring results are transmitted as ASCII protocol via a serial interface to the generator or a separate display.
VacuDAP-OEM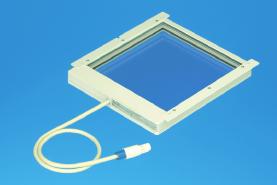 The dose area product measuring chamber comprises the complete electronic measuring system and has an serial interface through which the measuring chamber can be operated by means of an ASCII protocol and the measuring results indicated on the control console of the X-ray generator or on a separate display unit. The transparent measuring chamber is available in two dimensions.
VacuDAP standard/fluoro/twin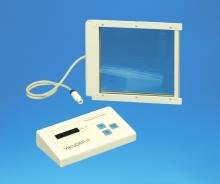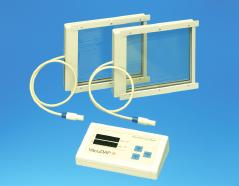 Display and control units are added to the measuring chambers to form a complete system. They are available as single-line version (standard), two-line version with simultaneous DAP rate display for fluoroscopy (fluoro) and two-line version for the parallel connection of two measuring chambers (twin).