Nested CT Dose Phantom Kit for Pediatric/Adult Head and Body
76-424-4156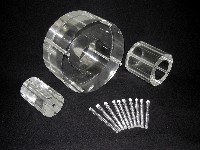 Key Features
Uniquely designed for pediatric and adult computed tomogaphy dose index (CTDI) in a lightweight (44 lb, 20 kg) total package
Can be used with new multi-detector (MDCT) units
Meets requirements of FDA performance standards
All new carrying case with wheels and pull handle
Case includes space for CT Ion Chambers (purchased separately)
The innovative nested CT Dose Phantom can be used with any computed tomography (CT) system designed to image pediatric and adult head and body. Each phantom segment can provide separate dose information. When performing dose profile measurements, the dose phantoms allow the user to collect information for the maximum, minimum and mid-range value of the nominal tomographic section thickness.
This essential phantom kit consists of three parts: an adult body phantom, an adult head phantom that doubles as a pediatric body phantom and the new pediatric head phantom, nested together for easy storage and convenient transport. (All are made of solid acrylic with diameters of 32, 16 and 10 cm, respectively.) Each part contains four probe holes around the perimeter, 90° apart and 1 cm from the edge and the pediatric head (center insert) has one probe hole in its center. The inside diameter of the holes is 1.31 cm. Each part includes five acrylic rods for plugging all the holes in the phantom. A sturdy storage and carrying case with wheels and pull handle that holds all three phantoms is included; as an option, a smaller case without wheels is available.
The CT Dose Phantoms were designed in accordance with the Food and Drug Administration's performance standard for diagnostic x-ray systems, which includes regulations specifically applicable to CT systems (21 CFR 1020.33).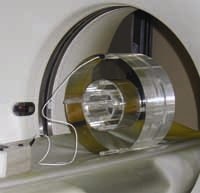 Product Specifications
Weight

| | |
| --- | --- |
| Adult body phantom: | 25 lb (11.3 kg) |
| Adult head/pediatric body phantom: | 5 lb (2.3 kg) |
| Pediatric head phantom: | 3 lb (1.3 kg) |
| 3 nested phantoms: | 33 lb (15 kg) |

Dimensions

| | |
| --- | --- |
| Adult body phantom: | 15.5 cm long x 32 cm Ř |
| Adult head/pediatric body phantom: | 15.5 cm long x 16 cm Ř |
| Pediatric head phantom: | 15 cm long x 10 cm Ř |
| | |
| --- | --- |
| Model name | Description |
| 76-424-4156 | Nested CT Dose Phantom Kit for Pediatric/Adult Head and Body including carrying case with wheels and pull handle |
| 76-424-4150 | Nested CT Dose Phantom Kit for Pediatric/Adult Head and Body including carrying case without wheels and pull handle |
| 76-419-4150 | CT Dose Phantom Kit for Pediatric/Adult Head and Body including carrying case with wheels and pull handle |
| 76-419 | CT Pediatric Head Dose Phantom with five plugs |
| 76-414 | CT Head Dose Phantom with five plugs |
| 76-415 | CT Body Dose Phantom with five plugs |
Related Products
CT Ion Chambers
© Elimpex-Medizintechnik, Spechtgasse 32, A-2340 Mödling, Austria
phone +43-2236-410450
fax +43-2236-860957