Nuclear Medicine

Hand-Foot-Clothing Contamination Monitor with plastic scintillation detectors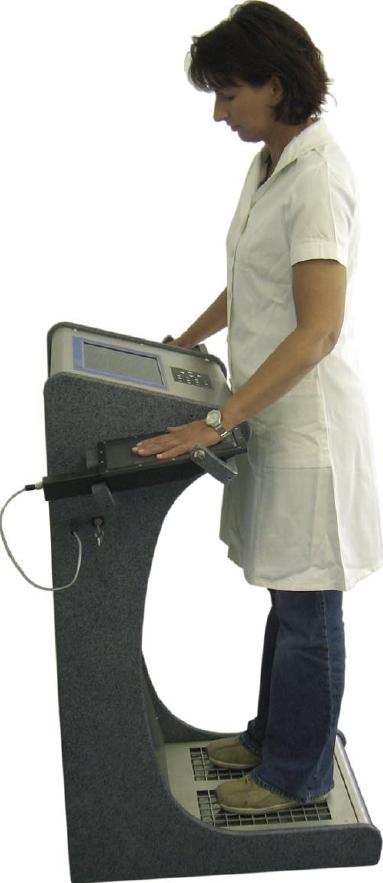 System characteristics:
PC-based measuring electronics on industry computer basis
user-friendly menu interface, large-area colour
LCD- screen for measuring value display
nuclide selection menu, person-specific nuclide
pre-selection possible
person-specific contamination measurement by means
of selection menu, card or transponder
detachable handprobe, therefore no additional frisker
probe required
integrated calibration software (auto-calibration) for
quality check
ergonomic housing design with stainless steel front

network-compatible
connection of HFC-monitors to a central database /
access control and parameter setting functions
as an alternative deliverable as a triage monitor
(requirement in Switzerland). A triage monitor is the
combination of an HFC-contamination monitor with
additional NaI-detectors for incorporation control
(stomach, thyroid)
Anyone who works with unsealed radioactive material can get contaminated. To check the personnel working in the control area, a stationary HFC-contamination monitor is placed at the exit, according to the German Radiation Protection ordinance (§ 44 StrlSchV). In appendix III, Tab. 1, column 4, the limit values of surface contamination are defined nuclide-specifically.
Advantages of the detector system
innovative detector technology based on thin-layer plastic scintillation detectors
no gas-filled detectors (Xenon) – therefore significant reduction of repair costs
no gas supply required
appropriate for α-, β-,γ-contamination measurements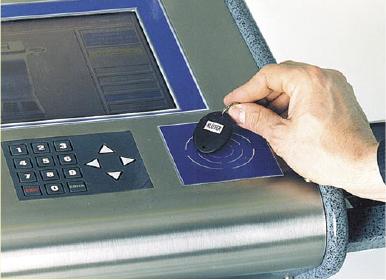 Transponder for person-specific measurement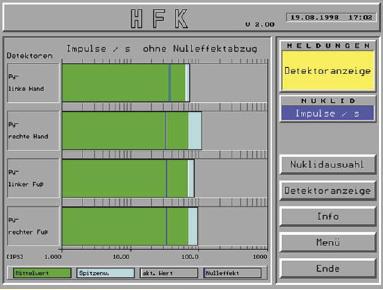 Detector display (count rate of the detectors) for function check
© Elimpex-Medizintechnik, Spechtgasse 32, A-2340Mödling, Austria
phone +43-2236-410450
fax +43-2236-860957