Nuclear Medicine

Flood Phantom
FP 67S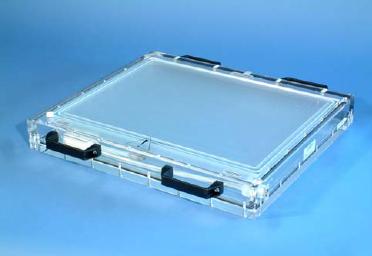 Product Specifications
Fully automatic mixing with integrated circulation pump
Including air chambers for pressure compensation
Compact, closed system
Measuring areas made of glass/acrylic glass- composite design
Optional: Positioning cart for different camera systems
Field of Application
Quality Assurance in Nuclear Medicine according to revised Guideline on Radiation Protection in Medicine, for weekly inhomogeneity and sensitivity control and acquisition of correction matrices.
Benefits
Complete mixing, saving time, lower radiation exposure
Air-bubble free field of view and no impact of temperature on the measuring result
Contamination risk reduction
The phantom doesn't have to be emptied after each measuring cycle
Ensures reproducible positioning of the flood phantom during measurement.
Product Description
Regarding its dimensions the Flood phantom FP 67S corresponds to DIN 6855, Part 2 for performing constancy control of the inhomogeneity and for acquisition of correction matrices. It contains a mixing system with built-in pump. Due to its special composite design, deformation of the measuring areas is avoided by permanent water contact.
Accessories
Positioning cart for positioning the flood phantom under the Gamma Camera
Shielded transportation cart for transportation and radiation-free storage of the flood phantom.
Mounting frame HR 67 for PRISM 1000/ 2000.
Specifications
| | |
| --- | --- |
| Material in measuring range: | 20 mm acrylic glass/glass |
| Measuring accurarcy according to DIN: | 1% |
| Filling medium: | distilled water |
| Power Supply: | low voltage (7,5V wall plug transformer) |
| Connected load: | primarily: 230V~ 15 VA |
| Mixing time: | 4 minutes |
| Operation temperature: | 15° C – 25° C |
| Dimensions and weight: | see chart |
Dimensions and weight
| | |
| --- | --- |
| Type: | FP 67S |
| Eff. field of view [mm]: | 400 x 540 |
| Total field of view [mm]: | 440 x 580 |
| Dimension of the cuvette [mm]: | 545 x 630 x 80 |
| Dimension with attachment parts [mm]: | 635 x 630 x 90 |
| Filling quantity approx. [liters]: | 12 |
| Weight empty approx. [kg]: | 21 |
| Operation weigt approx. [kg]: | 31 |
© Elimpex-Medizintechnik, Spechtgasse 32, A-2340Mödling, Austria
phone +43-2236-410450
fax +43-2236-860957