Nuclear Medicine

Dose Calibrator ISOMED 2162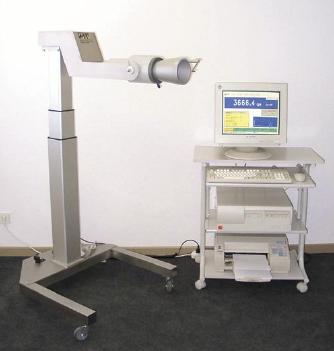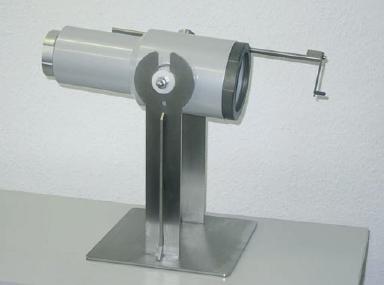 The Thyroid Counter ISOMED 2162 is a universal in vitro- counter, especially for diagnostics and therapy of the thyroid. The measuring system consists of a powerful PC-system with integrated MED multi-channel analyser and a stand system accommodating the shielded NaI-scintillation detector. The heart of the measuring system is the user-specific software Upt2000 (see description). Apart from the field of applicati- on thyroid, the measuring system can also be used for kine- tic function analyses, incorporation monitoring of personnel working in the therapy field and for the leakage check of the Isolated Extremity Perfusion (ILP).
Many accessories like e.g. collimators, absorbers, thyroid phantoms and test sources complete the thyroid counter.
Thyroid programme Upt2000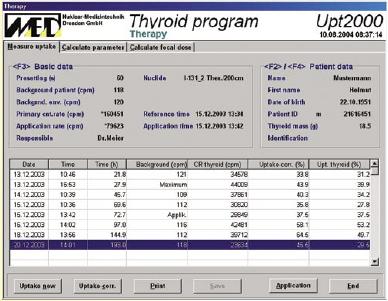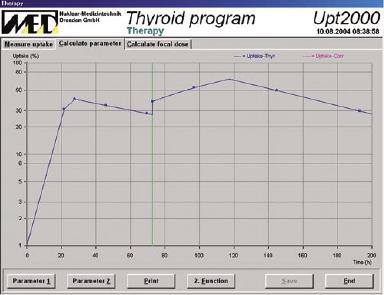 Essential characteristics are
calibration for I-123, I-131 and Tc-99m under maximum
8 different calibration conditions (distance, absorber ...)
for diagnostics and therapy
manual input of the thyroid mass or calculation from the
scintigraphy and/or sonography data
uptake determination from background and thyroid
activity or from thyroid and whole body activity
determination of the therapy activity and focal dose also
from an uptake
graphic display of the uptake curve as a function of the
time
calculation of the required period as an in-patient and its
earliest possible release. Limit values can be chosen from
activity, dose rate and yearly dose.
post-applications can be taken into account
possibility for self-measuring of patients. The patient
identification takes place by means of a transponder.
network connection between several thyroid counters.
In this way e.g. a transmission between diagnostics
and the- rapy wards is possible.
The thyroid programme Upt2000 is used for diagnostics and therapy of the thyroid. From a maximum of 30 uptakes for a patient, the programme calculates the parameters effective half-life and maximum storage. With these parameters, the activity for the dose planning of the radiotherapy and/or the effective focal dose during therapy.
Together with the Probe Counter ISOMED 2101, the thyroid programme is generally part of the Thyroid Counter ISOMED 2162 or of combined counters, with online processing of the measured count rates. Together with the patient data, the ex- amination results can be stored in a database, printed as a protocol and transmitted to a network.
Our software fulfils the current regulations, standards and directions. The software was created in intensive cooperation with our customers and is based on their experiences. The Thyroid Counter ISOMED 2162 fulfils the requirements of the Medicine Product Law.
© Elimpex-Medizintechnik, Spechtgasse 32, A-2340Mödling, Austria
phone +43-2236-410450
fax +43-2236-860957