Nuclear Medicine

Incorporation Counter ISOMED 2163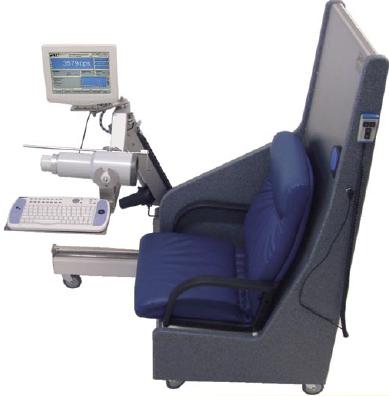 The Incorporation Counter ISOMED 2163 consists of:
PC-based Probe Counter ISOMED 2101
with integrated MED multi-channel analyser
NaI-scintillation probe 3 x 3" with shielding
and collimator
stand or special chair (picture)
software Ink2000
According to the German Radiation Protection Ordinance and the "Directive for Physical Radiation Protection Control", a frequent incorporation check to calculate the partial body dose of the thyroid has to be performed on all employees of a radioiodine therapy ward. The monitoring interval for I-131 is 2 weeks.
Normally, the incorporation measurements are carried out at a licensed, external measuring institute. Due to the distance, is time consuming, a high strain on the employees and also on organising the sequence of work in the hospital. Addi- tionally to the time and organising efforts and the external incorporation monitoring also requires rather high costs.
As an alternative to the external monitoring, a frequent measurement of the partial body dose on own responsibility is possible and has been proved in practice with the incorpo- ration monitor ISOMED 2163.
Incorporation programme Ink2000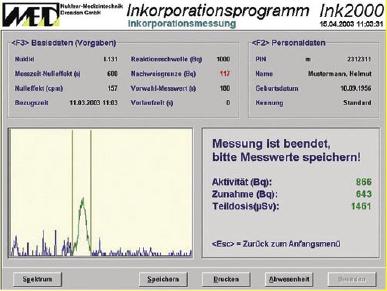 Essential characteristics are
online processing of the measured count rates from Probe
Counter ISOMED 2101.
taking into account the individual thyroid mass and the
effective half-life
taking into account the rest activity of the previous
incorporation measurement
calculation of the partial body dose and effective dose
over a dfinable time period
graphic display of the activity course during a calendar
year and of the current energy spectrum
listing of the measured thyroid activities and the
calculated dose values of all employees over a de?nable
time period
listing of the performed checks of each employee

log-on of the person to be measured by means of
transponder or chip card
possibility of obligatory contamination check by means of
HFC-monitor before incorporation measurement
transmission of patient data and examination results via
standard network or GDT-interface
menus for data storage and archiving
protection for manipulations and wrong operations by
several menu levels protected by passwords
The incorporation programme Ink2000 is meant for routine incorporation measurement. The measuring system measu- res the count rates of the thyroid and calculates the thyroid activity. In addition to the activity, the accumulated dose over a de?nable time period is calculated too. Measurement and evaluation are possible for I-123, I-125 and I-131. Together with personnel data, the examination results and evaluati- ons can be stored in a database, printed as a protocol and transmitted via a network. They ful?l the requirements of the governmental institutes.
The programme Ink2000 works on PC-basis as a Windows application. The used menu technique guarantees a simple operation.
A combination with the thyroid programme Upt2000 using the same hardware is possible.
© Elimpex-Medizintechnik, Spechtgasse 32, A-2340Mödling, Austria
phone +43-2236-410450
fax +43-2236-860957