Tabletop Shield
for beta and gamma radiation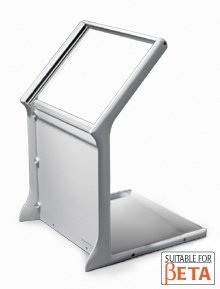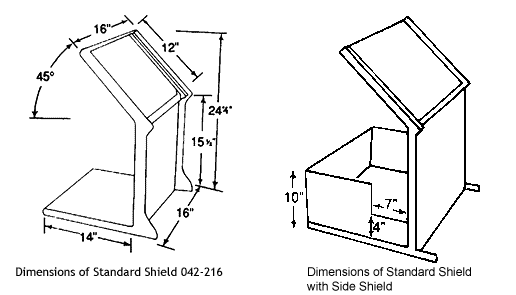 For beta and gamma radiation
Constructed of lead and aluminum to
protect the torso
Lead glass and clear acrylic to protect the head
Integral stainless steel tray with spill proof lip
This Tabletop Shield provides protection while working with low-energy beta and gamma radioactive materials. The shield is designed to resist tipping and incorporates shielding overlap. It also includes a built-in stainless steel tray with spill proof lip for fast, contained clean up.
The front wall of the shield is constructed of .5" (1.2 cm) thick lead and .0625" thick (1.6 mm) aluminum to protect the torso. A 4.36 density, .3125" thick (8 mm) lead glass window and a .354" (9 mm) clear Plexiglas window allow unimpaired viewing of the work area. The shielding combination attenuates gamma radiation, beta radiation and errant bremsstrahlung.
Manufactured to be durable, the Beta/Gamma Tabletop Shield is framed in cast aluminum with a powder-coat finish.
Specifications
Tabletop Shields
Lead Shielding: .5" thick (1.2 cm)
Aluminum Shielding: .0625" thick (1.6 mm)
Dimensions: See drawing featured.
Viewing Panel:
- Lead Glass: .3125" thick (8 mm)
- Clear Plexiglass: .354" thick (9 mm)
- Density: 4.36
Finish: Powder coat
Shipping Weight: 110 lb (50 kg)
Side Shields
Lead Shielding: .25" thick (.64 cm)
Dimensions: See drawings featured
Shipping Weight: 50 lb (23 kg)
© Elimpex-Medizintechnik, Spechtgasse 32, A-2340Mödling, Austria
phone +43-2236-410450
fax +43-2236-860957