Alpha Beta Gamma Counter - Model 3 with 44-9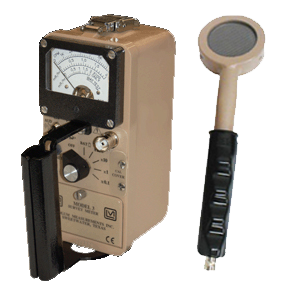 Integrated Meter with GM Pancake Probe
Simple to Use
Low Cost
Introduction
This is Ludlum's best selling general purpose, handheld analog ratemeter known for accuracy and long lasting dependability. When connected to the Model 44-9 G-M pancake detector, this system simultaneously detects alpha, beta and gamma radiation making it an excellent choice for Medical and Health Physics applications.
The analog meter face supports an operating range of 0-200 mR/hr for measuring gamma exposure rate and 0-660 kcpm for alpha/beta/gamma. With the addition of the optional Model 180-2 sample holder, it can also be used to make a quick evaluation of wipe test surveys in the nuclear medicine department.
When ordered together, the Model 3 and 44-9 Probe includes a 1 meter (39 in.) interconnecting cable, and is shipped calibrated and ready for use.
Specifications Model 3
APPLICATION: alpha, beta, and gamma surveying
DETECTION RANGE: dependent on detector (see meter face page)
COMPATIBLE DETECTORS: GM, scintillation (see complete list)
LINEARITY: reading within 10% of true value with detector connected
HIGH VOLTAGE: adjustable from 400-1500 Vdc
THRESHOLD: fixed at 40 mV ± 10 mV
METER DIAL: 0-2 mR/hr, or 0-500 kcpm, BAT TEST (See all available dials)
METER: 6.4 cm (2.5 in.) arc, 1 mA analog type
CONTROLS:

Rotary Selector: switches between instrument off, battery check, ranges: x0.1, x1, x10, x100
Response Switch: toggles between FAST (4 seconds) or SLOW (22 seconds) from 10% to 90% of final reading
Reset Pushbutton: to zero meter
Audio Switch: for audio on/off, built-in unimorph speaker, greater than 60 dB at 0.6 meters (2 ft)
Calibration Controls: accessible from front of instrument (protective cover provided)

CONSTRUCTION: cast and drawn aluminum with beige powder coat
CONNECTOR: series "C"
TEMPERATURE RANGE: -20 to 50 °C (-4 to 122 °F), may be certified for operation from -40 to 65 °C (-40 to 150 °F)
POWER: two each "D" cell batteries (housed in externally accessible sealed compartment)
BATTERY LIFE: typically greater than 2000 hours with alkaline batteries (battery condition can be checked on meter)
SIZE: 16.5 x 8.9 x 21.6 cm (6.5 x 3.5 x 8.5 in.) (H x W x L), including handle
WEIGHT: 1.6 kg (3.5 lb), including batteries
Specification 44-9
INDICATED USE: alpha, beta, gamma survey; sample counting
DETECTOR: pancake-type, halogen-quenched GM
WINDOW: 1.7 + 0.3 mg/cm² mica
WINDOW AREA: 15 cm² (2.3 in²) active, 12 cm² (1.9 in²) open
EFFICIENCY (4π): 5%-14C; 22%-90Sr/90Y; 19%-99Tc; 32%-32P; 15%-239Pu, ≤ 1%-99mTc; 125I-0.2%
SENSITIVITY (137Cs gamma): 3300 cpm/mR/hr
ENERGY RESPONSE: energy dependant
BACKGROUND: 60 cpm
DEAD TIME: 80 microseconds
OPERATING VOLTAGE: 900 Vdc
CONNECTOR: series "C" (others available)
INPUT SENSITIVITY: ≥ -30 mV
CONSTRUCTION: aluminum housing with beige powder-coat finish
TEMPERATURE RANGE: -15 to 50 °C (5 to 122 °F), may be certified for operation from -40 to 65 °C (-40 to 150 °F)
SIZE: 4.6 x 6.9 x 27.2 cm (1.8 x 2.7 x 10.7 in.) (H x W x L)
WEIGHT: 0.5 kg (1 lb)
Energy Response
Beta Source Efficiencies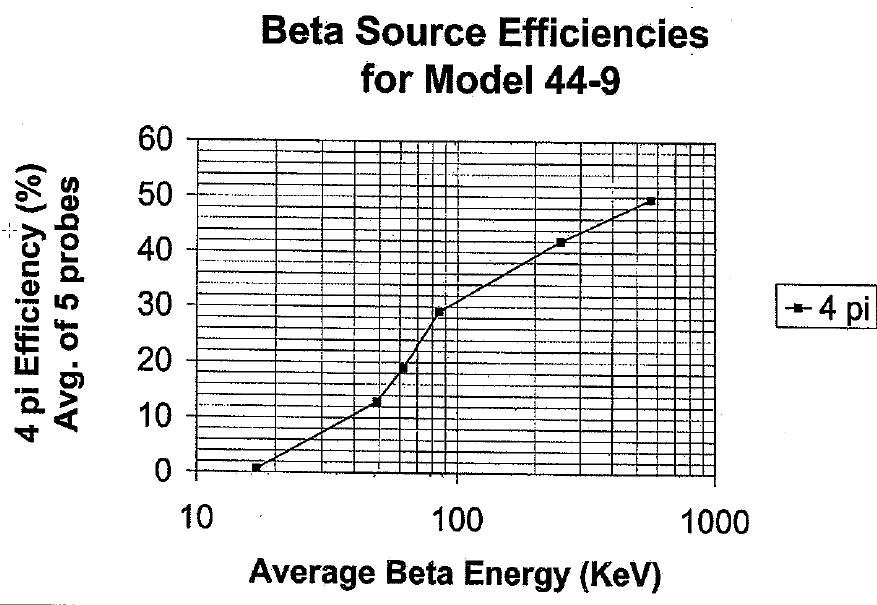 © Elimpex-Medizintechnik, Spechtgasse 32, A-2340 Mödling, Austria
phone +43-2236-410450
fax +43-2236-860957